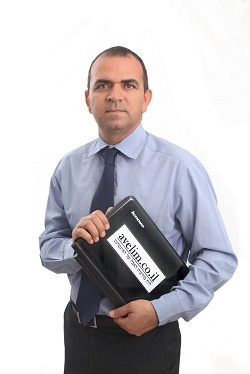 I've met Yoram during a WordPress meetup in Google TLV Campus, Israel. We had an interesting chat and Yoram has told me about Avelim.co.il, his very unique company. In first sight, I didn't see any connection between the Rating-Widget to Yoram's website – but I was wrong. Yoram came up with very innovative idea of how he can use and benefit from the Rating-Widget WordPress plugin. That was another proof for me that a rating system can provide value for any kind of website.
Yoram, thank you for answering these questions which I'm sure will inspire our readers how to think out of the box. I want to start off by asking you about the first time you thought about the special idea of Avelim.
How the idea came into your mind? What was your friends' initial feedback?
In 2010 My bosse's mother passed away. In Israel, there is the Shiva – a week-long period of grief and mourning when it is customary to pay a home visit to the mourners. I wanted to know when the funeral was and where the Shiva was taking place. Naturally I searched the web to find details. I was amazed that no information was available. Death notices were still published solely in the Newspapers. As I left my work around August 2010, I decided to build a site dedicated to death notices and obituaries. It is sort of "Facebook for the deceased". My friends thought it was strange. Most people have a strange reaction when I tell them about my site. Some people have a hard time even holding my business card. People fear death and prefer not to think about it.
Using thumb ratings as candles is quite innovative, how did you think about it?
I thought about having people lighting a candle under the death notices for quite some time. I receive visitors' feedback constantly and it was a request that was repeating. Since it is a special use case, no such plugin exits out of the box. I kept the idea in the back of my mind. I had no time or money to develop such a solution from scratch. After I met you, I decided to install the plugin just for fun. You seemed like an interesting guy and I wanted to have a look at your work. Being a heavy plugin user, I love plugins and enjoy reviewing them. I was impressed with the plugin's ease of use, and the fact that it supported RTL languages. I was aware that it produced star ratings before I installed it, and did not see how that can be incorporated in my site. Looking through the plugin I saw several things that made me think:
The thumbs up feature.
The possibility to have just the thumbs up (with no thumbs down).
The fact that users supplied you with icons (there were credits on some icons).
Seeing these, I approached you and requested you to add candle icons. You were very willing to do so. Your cooperation made it happen. You even had the nice idea of having the candle with no light at the beginning, and having the mouse click lite the fire. After having the candle on my site for just a week I got very positive responses from my visitors. Before, visitors could write obituaries (which is not easy) or just read. Now they have a new way of engaging and paying their respects – lighting a candle. They appreciate it.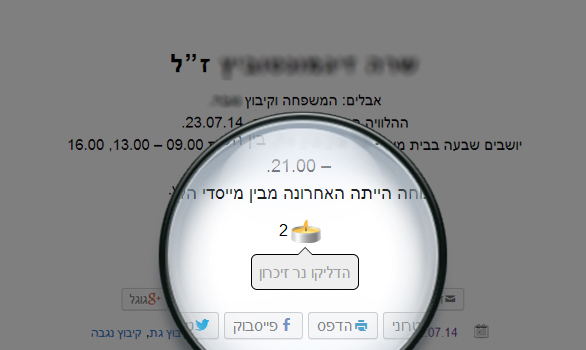 You've upgrade your plan to Pro just after a day. What was the reason? Was the upgrade process easy?
I am very careful of not having promotional material on my site, so I did not want the RatingWidget branding of the free version on my site. It was clear to me that if I was to use the plugin, I had to upgrade.
Finally, any words of wisdom about thinking out of the box?
The beautiful thing about WordPress is the vibrant community and the extensive plugin development. I always keep an eye open for new features for my site. The fun part is taking a plugin that seems contradictory to the spirit of Avelim and twisting it to make it an important part of Avelim. I think that creativity is organizing exiting building blocks in a special way. This is what I tried to do here. I think I succeeded.
Thank you so much Yoram for your time!
Have any cool ideas of how to use RatingWidget? Like to share your own rating widget story? Share your thoughts in the comments below or contact us via

[email protected]

.