As most marketers and eCommerce professionals already know, product reviews are among the most critical factors when shoppers make purchase decisions. Google just announced that they will be instituting a product ratings feature on their PLA (Product Listing Ads) and Google Shopping platforms to help guide customers through the purchase process.
Google adds #StarRatings for #PLA (Product Listing Ads) on #Google search & Shopping.Tweet
Shoppers in the US will now see star ratings and product review counts on the google.com and google.com/shopping platforms. The 5-star rating system will aggregate review data for products by compiling input from multiple sources — merchants, third parties, editorial and review sites, and actual users.
"We believe these ratings will help differentiate products across google.com and google.com/shopping and will help merchants drive more qualified traffic through Product Listing Ads," a Google spokesperson wrote. "In initial tests, product ratings also helped increase click-through-rates of Product Listing Ads." Mike Capsambelis, Product Manager of Google Shopping said on Tuesday, July 29th 2014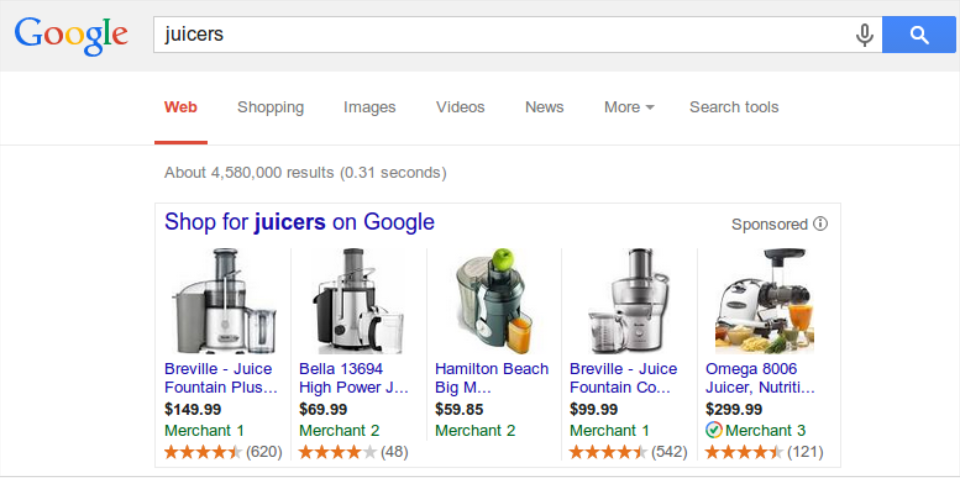 Enabling product star ratings on Product Listing Ads
The new product star ratings feature is available to merchants focusing on the U.S. market who are willing to share their product review information and content directly with Google or their approved third party aggregators.
Google will establish a grace period through October 2014 to allow merchants a chance to adjust to the new feature.  Through the grace period, product ratings may be shown on ads where Google has access to product review data. When the grace period is over, only opt-in merchants will have their review data shown on Product Listing Ads.  The ratings data are just one of several extensions Google may show on ads, and product reviews may or may not be featured depending on other data inputs and product information.
Opting in to share review content
Google has a form available to start the process of including product review content data on Product Listing Ads. Capsambelis stated "During the initial launch, we expect high inquiry volumes and appreciate your patience as we work to address all inquiries." Google promises that merchants outside the U.S. market will be included in the product review content program in the near future.
For merchants with excellent reviews and superior quality customer service, the new program is likely to boost sales and click-through rates significantly.
It's a great news for RatingWidget
As the leading star ratings web solution, it's our duty to stay updated with the most recent industry trends and changes, to provide the best ratings solution for our merchants and publishers. Partnering with Google and becoming a 3rd party ratings provider will enrich our SEO offering and add a huge value for our eCommerce customers who spend money on PLAs. Therefore, we immediately applied for the Product Ratings Partnership Program – hopefully to become an official partner ASAP. Stay tuned for more updates.
Looking for the perfect ratings solution for your e-shop? Check out RatingWidget now and add beautiful star ratings for your products (P.S it will increase your Google search results CTR with our powerful Rich-Snippets integration).